'i heart:' is a feature giving testaments to my favorite things in life. today, i decided to write about one of my most basic and yet all-consuming faves, color.
sometimes i am so thoroughly hypnotized by random brightly colored crap, nat has to drag me away from it. cos really, who needs more plastic junk?? well, myself for one- at least my brain seems to think so when it comes in neon or saturated shades of yellow, green, pink, blue, purple. and this brain of mine can be pretty convincing.
recently i found some awesome color in a very unexpected place- the dollar tree. i went in for picnic items and left with plastic ice cream cones full of soap bubble liquid.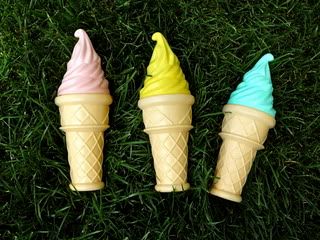 yes yes, you're probably thinking i just wanted them to further feed my faux foods fetish and you'd be partially right- but in the end how could i also walk away from those lovely shades of yellow, aqua and pink? my brain practically screamed 'no way, jose!' at the mere thought. they're currently livening up my office and, for now, throwing in some entertainment value too as my pup penelope stalks and eats any bubbles i blow.
another way i impart color into my life is giving myself a pedicure every so often, definitely every few weeks for the duration of summer. and last summer i came across polishes from cosmetics company,
zoya
. their range of colors in amazing and as addictive as crack.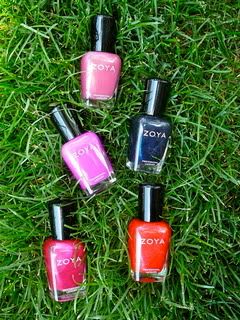 even better, their formulas are super quick drying and go on opaque in just 1-2 coats. two of my favorite shades are charisma, a matte finish fuchsia that looks purple-black under florescent light and vegas freeze, a bright violet with subtle silver glitter.
sometimes i really need a true jolt of wall-to-wall color and
bolt fabric boutique
on NE alberta street is the perfect place for that. carrying fabric lines from the likes of
amy butler
and
marimekko
, their shelves are a virtual overload of color and pattern- and i love it! the shop is a total fix for a color junkie like myself.
i have been going to
bolt
since it opened a few years ago and have stocked up on everything from fabrics for my wedding decorations to brightly colored oilcloth for an outdoor table. yesterday i was there helping my grandmother pick out fabrics for some summer dresses she's having made.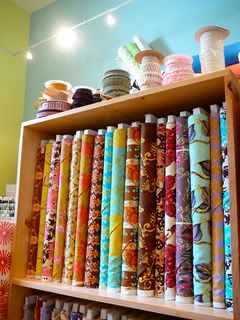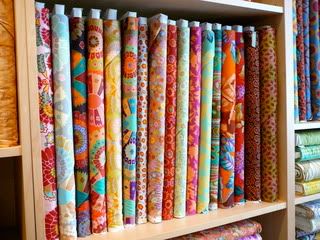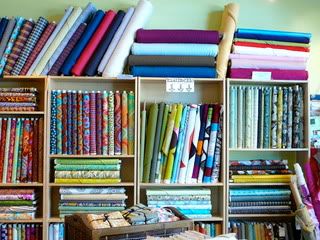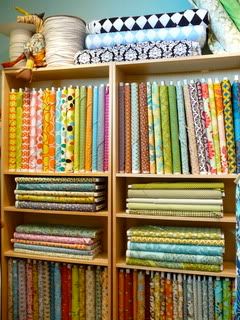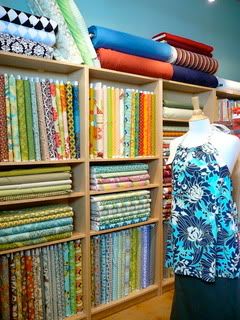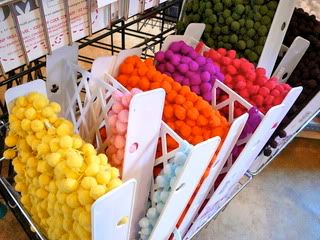 whether you're a color junkie like me or you just can't break the habit of buying everything in black, i think most everyone would be hard pressed to admit color doesn't rock their socks in one way or another. as my friend jordan's music video for eclectic electronic musician
daedelus
contends, there can be little to no happiness in a colorless world.