about a year and a half ago my husband, nat, and i bought our first home. it's a 1904 victorian that's been through some true re-muddling. my love of old houses means i'm a restorationist at heart and my goal is to bring the home closer to it's early glory. that said, i love color and can't live with white walls- nor can i live with a classic victorian color palette of pinks and mauves! 
when we moved in, the house was swathed in some pretty questionable colors- orangey-beige terra cotta in the entry and dining room, dark red in the living room and bright blue in the kitchen. keep in mind all these areas flow together! i decided to go with a bright peacocky teal in the living room, which is north facing, hence there's not a lot of natural light. instead i ended up with a dark forest green. 
nat and i lived with it for a year, hating it all the while. now that spring is here we're newly motivated to work on our space. a few weeks ago nat broke out his paints and started mixing colors to come up with the perfect light bright aqua to re-paint the living room in.
on the left you can see the original dark green, the right side is our new color-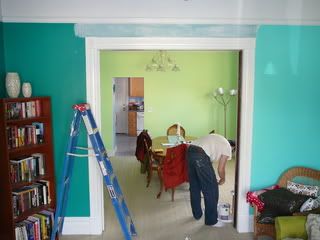 above you can also see the dining room is a light spring green, no more terra cotta! now we just have to paint the kitchen.