summer has finally hit portland and i couldn't be happier! here's a rundown of my current favorites for summer '09....
THE OUTDOORS!
since we returned from vacation i can be found in the backyard every morning, weeding and watering our garden. this is only my second year raising veggies and we were even more ambitious than last year. unfortunately, our spinach plants went to seed while we were gone- i really need to dig them up!- but everything else is doing wonderfully.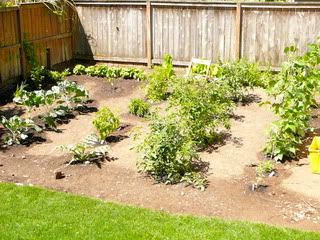 our inventory includes ten lettuce plants (romaine & butter crunch), a patch of onions (walla walla), four tomato (omar's lebanese, abe lincoln, red pik & beefsteak), four brussel sprout, two pickling cucumber, two blueberry bushes (courtesy of bob & leah!), two raspberry plants, two cilantro (busy trying to go to seed!), two basil, two snap pea, two pole beans (blue lake), two peppers (bell), one tarragon, one cardoon and a rogue squash that appeared last year too! 
i also planted a selection of mint plants in a large pot: orange mint, chocolate mint & spearmint. admittedly, i think they have and/or are in the process of intermarrying with one another as they all look the same now and i have a hard time sniffing out the difference anymore. regardless, i have plans for non-stop mojitos this weekend. well, non-stop within reason of course.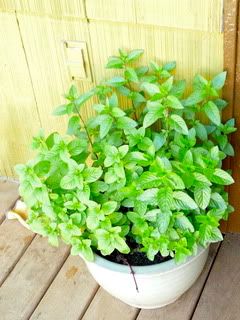 another nice thing about abundant sunshine means the dog parks have dried up from all the rain and are heaven on earth for pups like my penelope...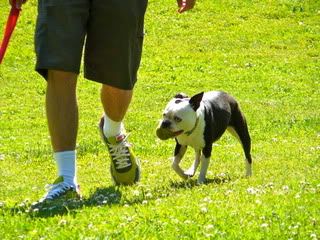 SUNDRIES!
yesterday i met
genevieve
for lunch at
por que no
which was extra delicious with blue skies outside. no, really! afterwards she and i wandered around hawthorne, soaking in the sun and wares. we stopped in
presents of mind
, where i found cheeseburger stickers!! finding such stickers has been a personal quest of mine since january! and so the collection begins...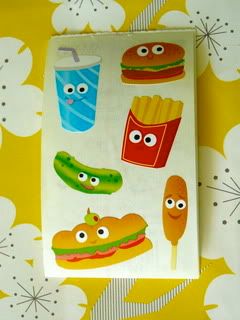 once home i used them to decorate a lighter that i found under a table at
amnesia brewing
two weekends ago while celebrating
meg
's birthday. now i can light candles in style!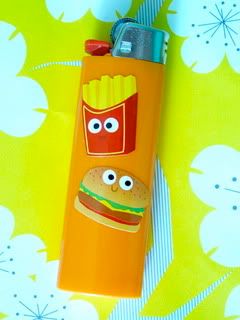 i think it was very seriously my lucky day yesterday because when we got back from the dog park, i was greeted by a package from tokyo. it's occurred to me recently that i need to own up to the fact that i seem to have a food fetish. i mean, eating food is great but what about the aesthetics of food??! some foods are just so amazing that you want them recreated just for your viewing pleasure, right?? right! (see: cheeseburger stickers) and the japanese definitely understand this which is why i ordered a gaggle of cell phone charms from tokyo...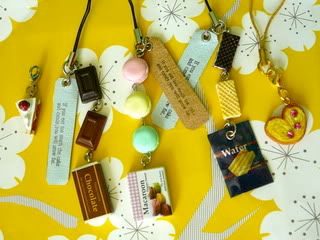 those of you who know me IRL know well enough how anti-cell phone i am so let's just say i'm reserving these lovelies for use in future projects. and just in case these straps inspire a binge fest, a few of them are decorated with leather tags warning: "if you eat too much the cake & candy, you will grow fat". gee, thanks!
but the good just keeps coming! the card backs a few of these came on were so damned cute, i decided to re-use them as book markers!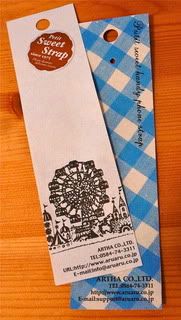 see those holes at the top? i tied some ribbon through them and viola! 
the perfect end to the day was nat coming in from taking the garbage to the curb and presenting me with our very own booska!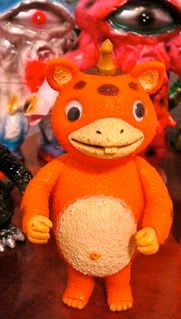 someone left a bag of children's toys on the sidewalk in front of our house. i have no idea why they chose that spot but when nat rifled through he found booska nestled in amongst the disney toys. weird! we gave him a bath and now he's living on my computer desk, his bright orange color reminding me of the sunshine waiting outside. 
speaking of which- toodles!