nat and i were lucky enough to take two and a half weeks and high tail it off to europe for parts of may & june this year. we joined his mother and husband aboard a cruise ship, stopping in italy (venice, sorrento, pompeii, rome & florence), croatia (split, salona & trogir), greece (santorini & athens) and france (villefranche-sur-mer, nice & monte carlo) before ending in barcelona. 
i went to europe for the first time in 2007 when nat and i honeymooned for a week in paris with a one day detour to brugges, belgium. this time around i saw a much larger section of europe and the weather was mostly fantastic. in fact, sometimes a little too fantastic... meaning lots and lots of sun! some days the only way i could go on was to walk only in shady areas, sort of like the dogs of oia, a gorgeous little village in santorini. 
oia is on the peak of the island and all the buildings are pretty low to the ground meaning there's hardly any shade anywhere. the day we were there was at least in the high 80's with no clouds in sight. if it hadn't have been for a very pleasant breeze blowing in from the water far below, i may have died right then and there. as we wandered deeper into town i found small shady areas to walk in. up to then i had seen dogs, all napping in the smallest slivers of shade. when the shade moved, they would amble along in search of more. 
one dog in particular was walking through a small shady strip of street when he found someone standing in his way. i noticed him nudge the man's leg, which led to the man bending over to administer some petting. the dog seemed pretty unaffected by the gesture and just stood there, a bored look in his eye. a moment later the man moved on and so did the dog, his shady path now free of annoying human road blocks.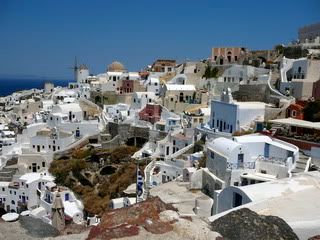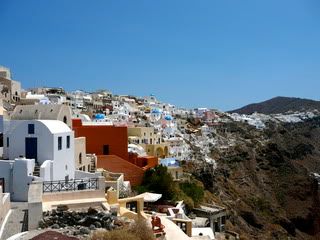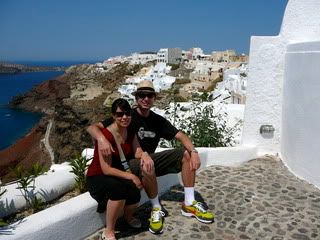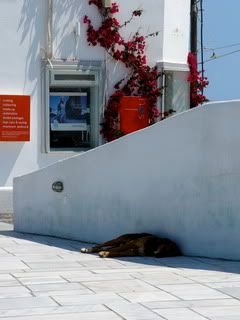 another highlight was arriving croatia. standing in salona about to tour ancient roman ruins, i noticed the park we stood in was full of rosemary & lavender bushes, olive trees and all kinds of gorgeous alien blooms. it's like heaven, i thought. or, ahem, maybe i really just am in the mediterranean!