one of my favorite things to do is plan a party. when nat and i got married in 2006 we decided to keep the budget super tight because we had other priorities for our money. that meant i did nearly everything myself- all of the planning, i made a playlist in lieu of a dj, i made all the decorations by hand, etc. it was stressful at the time but also super fun. and once it was all over all i could think was, i want to do it again! of course, nat thinks i'm insane. 
ever since then i've sort of gone all out with my parties. my birthday party this year was no exception. as i mentioned in an earlier post, my inspirations were may flowers and royal jubilee celebrations. i already covered the ribbons i made so here are the other misc. details...
going with the flower theme i decided i had to have a violet flavored cocktail. i went back and forth on whether to use a violet liquor or a violet syrup. after deciding to do a violet lemonade, i went for the syrup. the recipe is simple- two parts vodka, one part fresh squeezed lemon juice and one part violet syrup, topped off with a dash of ginger ale. absolutely delicious!!
i christened my cocktail the foxglove, which is the birth flower for may and is often purple in color. to make sure the name went along with the drink i made a name tag, attached it to some chain and hung it around the neck of the punch bowl...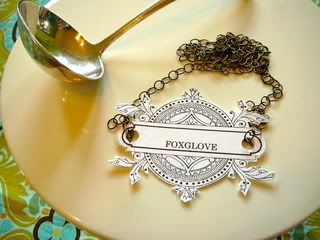 continuing with the purple flower theme, i decided to make cupcakes with lavender icing. i used a simple brownie batter recipe for the cakes and then made fresh lavender icing to pour over the top. early on in the planning process i decided to buy edible violets to crystalize and put on top of my cupcakes. unfortunately, after weeks of searching, i couldn't find any edible flowers. in the end i just bought some sugar flowers from a local cake decorating shop...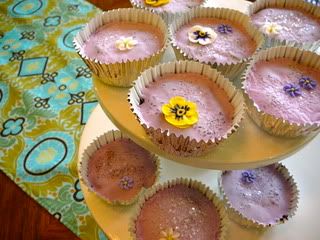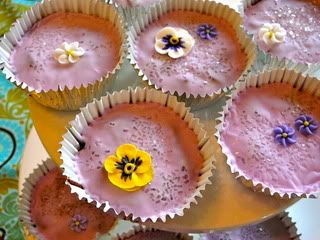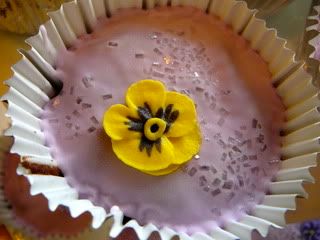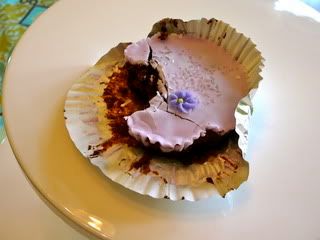 lastly, i finished up the purple flower theme in my decorations...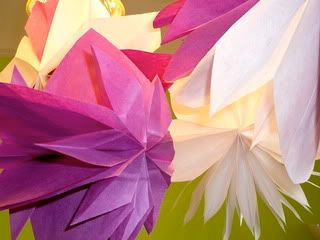 all it took were paper sacks, scissors, double-sided tape, string and viola! flowers to hang from light fixtures and windows. 
it was a fun party but now that six weeks of planning, sewing, concocting and baking is over, i have to say, i want to do it again!!