when i planned out my garden last spring, i knew i had to have some aromatic herbs such as mint and pineapple sage. why?? well ages ago, before i was fortunate enough to have my own garden, i had read about making scented sugar and an obsession was born.
i know i know, what does one do with scented sugar?? uhm, everything! you can bake with it- hello, mint scented sugar cookies! hello pineapple scented icing! you can add it to tea or coffee too. i'm also thinking of using it to make a simple syrup. imagine, beverages and baked goods with just a lovely hint of fresh herbal scent. heaven!
so here's the super easy process of making scented sugar...
here's what you need: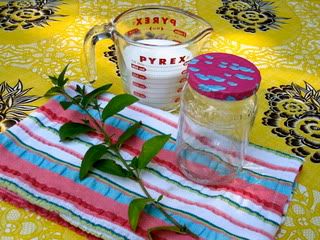 simple enough, right? an aromatic herb (i used chocolate mint but sages & pelargoniums, aka scented geraniums, work well too), some sugar and a jar. my jar is a small pickle jar, thoroughly washed & dried. and since i can't stand not having everything be bright & colorful, i used this awesome
how-to
over at the
design*sponge guest blog
to liven up the lid.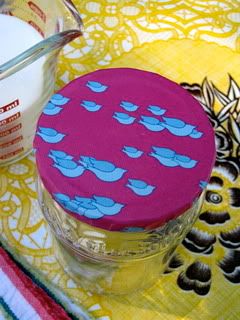 so the next step is to wash & dry your herbs. done? ok! now all you've got to do is layer a few clean, dry leaves in the bottom of your jar-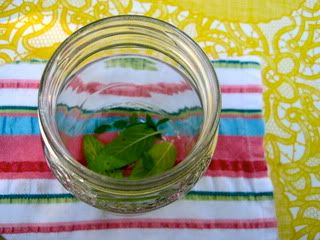 got it? now just pour in about an inch of sugar and repeat the process-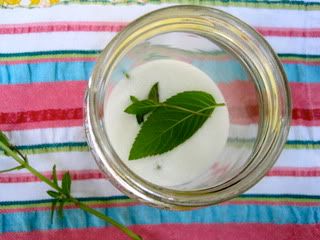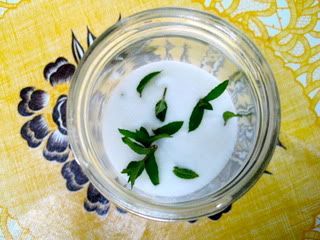 and voila! seal your jar and stash it somewhere dark & cool for two weeks.
once the two weeks are up just sift out the leaves and enjoy!