my mom and sister were visiting last weekend from astoria, oregon. astoria is a small town on the river about two hours northeast of portland, with lots of lovely victorian houses and plenty of outdoor activities. but as with many small towns, there aren't a lot of shops and so shopping usually works it's way into their visits one way or another. which is how i found myself at
ikea
on sunday.
of course, i walked in not thinking i needed anything at all, thinking at worst i would buy one or two small kitchen items.... so imagine my shock when a few hours and $68 later, i left with some awesome booty.
first off, they have some super cute laminated cardboard serving trays. decorated mostly in subdued colors and modern abstract patterns, i found a tray with a rainbow bird print hidden below all the others (shown here with the first wave of ripe tomatoes from my garden!), only $6!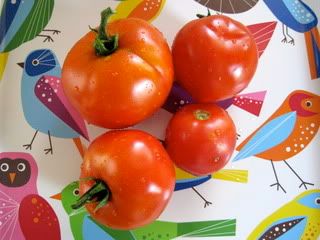 something i've been wanting since forever are outdoor candle holders for those summer nights when bbq's run late and you can no longer see your guests in the dark. with a budget as limited as mine however, i was starting to wonder if i was going to have to just use old jelly jars. turns out, nope, no jelly jars for me. there were a few lantern styles to choose from, all at $3 or less! i chose these modern style pillar holders, i think the lacey pattern sweetens them up and adds a wee vintage touch (seen here with some basil from my garden).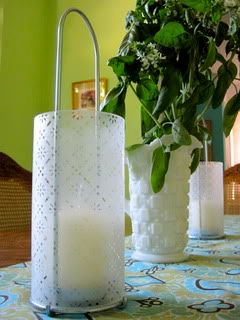 in fact, at that price, i got enough to hang from my back porch too!
i also picked up some great stuff for my office- a chartreuse table lamp, organizer boxes, a new waste paper basket, plus a drinks pitcher and some candles. even some cute wrapping paper! there were quite a few deals to be had.
but back to veggies- not pictured but also harvested this weekend are over two pounds of green beans! stay tuned for a bean salad recipe and bean pickling how-to!