i don't think it's any secret to those who know me that i love to throw a party! yes, gathering with friends to catch up while enjoying snacks & libations is awesome.... but for me, a lot of the joy comes from planning these events.
it all started with my wedding nearly three years ago. our budget was miniscule (hello, $2000!) and i had no choice but to do everything myself- planning, flower arranging, decoration making, you name it! and once it was over, i found myself desperately missing the process. which is probably why each party i've had since has nearly the same amount of planning and attention to detail involved. yes, my husband thinks i'm crazy.
i really enjoyed
this post
from my friend genevieve's blog recounting her baby shower brunch last weekend. i was lucky enough to have been asked by miss vieve to take charge of decorations. her want was paper flowers similar to those i had made for my wedding & birthday party this year. i was happy to oblige.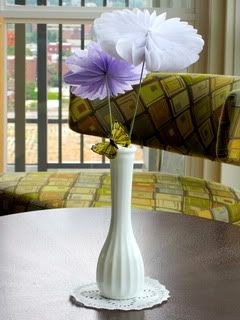 keeping pink out of the equation by genevieve's request, i crafted lavender and white flowers to be arranged in milk glass vases and adorned with small feather butterflies.
as someone on a constant budget, i find paper flowers are my favorite go-to decoration. real flowers, while gorgeous, are expensive and sometimes difficult to deal with. but paper flowers! they last forever- & hello keepsakes! here are the other two varieties i've made so far.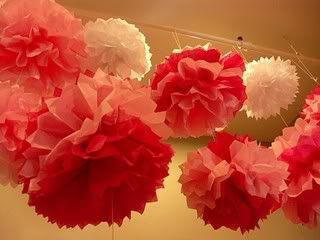 [i feel i must mention i made these in 2006 before they were everywhere- i believe now you can buy them pre-made!]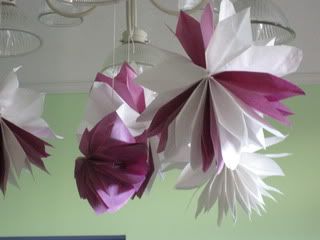 [from my birthday party & made from paper bags.]
i truly prefer the hand-made look, along with the satisfaction of having made something myself. however, we don't always have the time & energy to spend on getting party details just right. never fear! lovely hand-crafted party enhancers can be found on etsy too, that way you get the lovely, intimate feeling of hand-made decor while supporting independent crafts people too. win win!