if you saw my post the other day about the new kate spade collection you'll know i vowed to try and create similar looks using only what i already own. well i gave it a shot yesterday and here's what i came up with.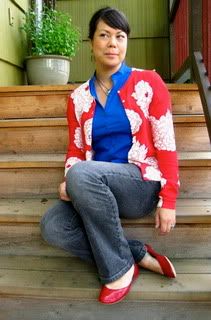 given my skin tone, my wardrobe is made up mainly of jewel tones as pastels tend to wash me out. i do like how kate's collection incorporates lots of white and paler shades given my affinity for "opposite dressing" (see yesterday's post) but corals & baby blues aren't typically for me.
at any rate, i am wearing seven jeans i bought in NYC at least 7 years ago, steve madden patent leather flats, a shirt from express & a printed cardigan from old navy. really, i was trying to re-create
this look
while using the blue & red color scheme from
this outfit
.
this is going to be much harder than i thought! marching on...