the year before last i started what was to become one of the most frustrating and ultimately fruitless quests of my life. the goal? find black leather, flat-soled boots for winter. something i can wear dressed up with a skirt or dressed down with jeans while keeping my feet warm & dry in the rain. i hear you- not impossible at all, you're saying. here's the catch, for under $150. i'm on a serious budget peeps! and i know exactly what i want and it doesn't include chunky soles, pleather or bubble toes.
so imagine my heart break at finding these lovelies this morning... for $348.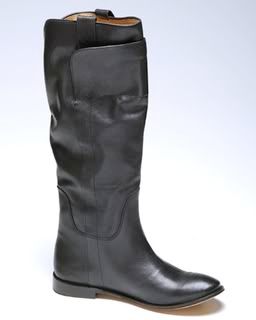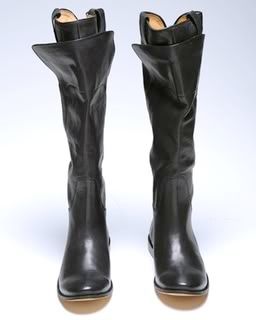 and that's the issue. either heels are in and everything in my budget is a high-heeled boot, which i already own two pairs of (they're not good in slick rainy / icy conditions) or the toes & heels are encased in chunky, rounded-off rubber. to which i say, i am not four years old- i'd just like some simple, classic, sleek, real leather boots please. and not for $200+.