it was may 2007 when i left the continent for the first time, bound for europe. after long deliberation (i was married in october 2006) my husband and i decided on paris for our honeymoon destination. before we left, i asked a very worldly and well-traveled friend for things to check out while in the city of lights. on her list of must-sees was famed patisserie & tea house, laduree.
before we left, i looked up addresses for laduree and chose the location closest to where we were staying in the latin quarter. when we searched it out, it turned out it was not a shop but offices only. i was bummed all day! not yet aware of how prolific laduree is in paris, i was shocked and delighted to see a shop as we strolled the champs elysees.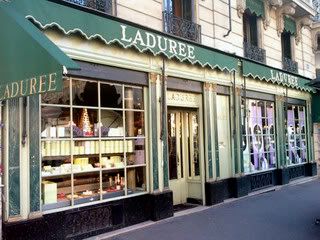 upon entering, i felt i had died and gone to heaven itself. in fact, i recently told my husband that laduree is definitely where i want to spend my eternal afterlife. it was the most opulent, posh and colorfully fun place i've ever seen. one side was a patisserie overflowing with brioche, rainbow colored macaroons and elaborate pastries while the other side was a terrifically upscale tea room.
you might have noticed on that sidebar over there that i mention my penchant for psychedelic cheeseburger art and well, in my brain at least, macaroons resemble petite multi-hued cheeseburgers. obviously they don't taste a thing like cheeseburgers- they're even better! my eyes as large as saucers, i stocked up on a box full of rose and salted caramel macaroons, a religieuses de violette, a bollywood grenadine & box of truffles stamped with a portrait of a french bulldog who more than slightly resembles my own pup, penelope.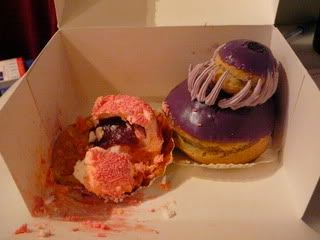 the religieuses de violette & bollywood grenadine after being carted in a box all day and nibbled upon
and there, is where my macaroon obsession began. thankfully, portland is home to the wonderful pix patisserie and they make macaroons nearly as delicious as those made by laduree. however, i do miss the exquisite packaging laduree is known for. remember my bulldog embossed truffle box? apparently they switch up themes depending on the season meaning i miss out on new editions such as this one (laduree also has a gorgeous and ever-changing line of accessories including things like brioche scented candles, macaroon printed tote bags, pastry printed umbrellas and more (and no, they don't offer mail order))...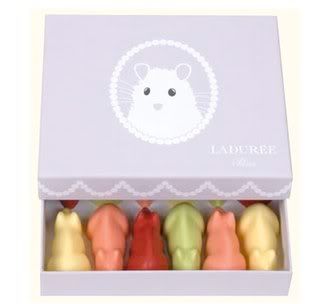 really though, it all comes back to the macaroons. i want to surround myself with a rainbow of macaroons in every fantastic flavor (including but not limited to the aforementioned salted caramel & rose flavors, as well as pistachio, violet, whiskey, vanilla, orange blossom, licorice, mint and on and on). i want towers and bowls and plates of them on my every table, i want pop art posters of them on my walls AND i want lovely macaroon jewels i can wear around my neck.
made in an edition of one only, my julie budet necklace sold out of the shop quickly. immediately afterwards i received many emails proclaiming the need for more macaroon jewels! sadly, my charm source was out of macaroons... but at long last, i have a shipment of six charm sets on it's way to me now. soon you'll have the chance to have your macaroons and wear them too.