i think i mentioned that i volunteered for a local crafts organization's super sale back in early may?? yeah, totally did. anyway, i found a few crafter/artisans in attendance that really blew my socks off. one of which was bella sisters, makers of the most awesomely gorgeous jackets ever!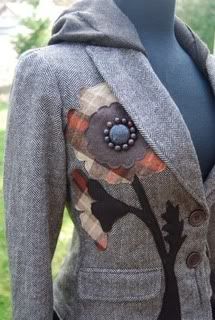 see?? didn't i tell ya, cute & awesomely awesome?! in person, i was blown away by the exceptional tailoring and quality of each jacket, something i don't see often in re-worked garments.
bella sisters use a minimum of 97% recycled materials in the construction of each jacket, making each piece wholly unique and eco-friendly. and did i mention the quality? a detail i totally loved was the insertion of hood and sleeve extensions, added in using pieces of old sweaters. as someone who is ALWAYS cold, those are features that will always come in handy for me. and honestly, i'm rarely an applique girl but bella sisters does them just right, using sweet organic shapes like birds and flowers in just the right way so they actually embellish instead of distract. not an easy feat, i'm guessing.