today i'm very excited to share my recent interview with anja verdugo of clever nettle vintage. anja has been an internet acquaintance of mine for a few years and i've watched as she moved here to portland, started her successful vintage clothing shop, clever nettle and everything in between.
aside from curating her ever-changing shop collection, anja is also a budding painter and illustrator, showing her nature and fashion inspired work in local galleries such as together gallery. she also produces zines about such topics as her trip to norway and her hilarious take on the b-grade horror flick, 'shrooms'. another current offering is the humorous and unique 'the billuminati - portraits of a secret society', nine portraits of well-known bill's & william's styled as secret society members.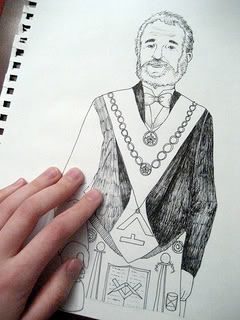 'billuminati' member, bill murray, in progress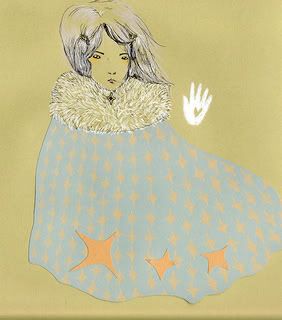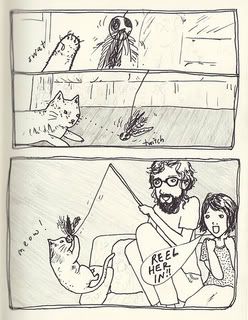 anja illustrates one of her favorite pastimes
being an ardent vintage fan myself, i recognized pretty early on that anja has a wonderful eye and consistently stocks her shop with unique and hard-to-find items. i wanted to know more about her aesthetic and her history of vintage love. here she answers my questions...
1. have you always been drawn to vintage fashion? when did you start to define your style using mostly vintage clothing?
I think my love for vintage clothing started as a love for things that were somewhat fantastical or out of this world. I was a kid who was really into my box of dress up clothing, and storybooks with fancy illustrations. My mom always took me to thrift stores when I was young, and vintage clothing always stood out as the unusual, magical items that came from another time and place.
2. what is your favorite era stylistically?
My preferences are often changing, but I think the 20's will always be my true favorite. If I had to pick a room full of a certain era of clothing to explore, I'd definitely pick the 20's leading into the 30's. The things they did with tiny pleats and stitches continues to blow my mind. I love art deco-inspired clothing design and weird patterns, which is why I also love the 60's. I just wish they didn't use so much polyester!
3. how has your style changed as you've gotten older? do you find that your taste in certain era's changes or has it always been pretty consistent for you?
It's not very common to run into 20's and 30's dresses in the thrift store, so if you're shopping more casually the vintage that you'll be seeing is usually from the 60's or newer (at least, in my experience!), so I used to wear a lot of those. I keep turning the clothing clock back more and more, trying to find wearable and awesome pieces from the early 1900's or even before if I can! I get kind of paranoid when wearing really old things since they can be so delicate, I don't want to spill anything on them or catch a thread because it's easy to ruin something that old. Right now I'm finding myself drawn to vintage that is durable, comfortable and soft, while still fitting into my style!
4. having grown up in canada, have you noticed much, if any, difference in style between canadian vintage vs. US vintage (or even norwegian... did you thrift at all when there)?
As far as I understand, second-hand stores don't really exist in Norway. I think my husband managed to find some second-hand pants somewhere, but I forget how that happened. I saw a few vintage dresses in a shop in Bergen but they were all over $100 each! And they weren't even that exciting, just normal vintage. The thrift scene in Canada is pretty similar to the one here in the states, but I'm still mourning a few garbage bags worth of Canadian vintage dresses that I lost when I moved to the US. I loved the Value Village out in Burnaby, but I think it closed down. I bought the most amazing couch there! It had a spinning liquor cabinet in the center.
5. does your affinity for vintage clothing impact your life in other ways beyond fashion (ie, home decor, special collections, activities, etc)?
Old things are pretty special to me. It's so weird to imagine the life of an object prior to finding it in a thrift store, because the possibilities are totally endless! It could have belonged to anyone, it could have seen anything. I have old paintings and photos of strangers in my home, old furniture and mugs and instruments. I want my home to be like a comfortable museum. I always feel so antsy in museums or estates that have all those incredible rooms roped off, I just want to hang out in there with all that awesome old stuff!
6. i know you also work on art projects such as paintings, illustrations and zines- how does vintage fashion inspire your art work?
I started a series of paintings that are very directly inspired by vintage fashion, because the paintings are all of dresses and other old clothing (mostly from the 20's - 30's) that I find on ebay but can't afford to bid on. They're fun to do, and it gives me a cool way to have the clothing without actually having to spend a dime. It also feels like a neat way to repurpose crappy quality ebay photos into something nicer.
7. what's your ultimate dream find?
Personal collections speak very loudly to me. In some ways, I've already found my ultimate dream find a few times! I went to an amazing estate sale at the home of a woman who was named Betty Jayne McIntosh, and they were selling bins of old photo albums and scrapbooks from her early days as a ballet dancer in the 20's. She was a professional ballerina and had this huge, amazing closet and all kinds of great things. I couldn't afford to buy the scrapbooks, but my friend Vivienne got them and she has many of them scanned on her flickr (http://flickr.com/photos/doublevivienne/). I bought a few dresses, a bookshelf and some photos (also scanned in!). I've been to other estate sales that had cool collections too, like a lady who owned tons of irons, drawers and drawers full of all different sizes of scissors, millions of cute little handkerchiefs... I suppose I could sum up this answer by saying that my ultimate dream find is getting to snoop around amazing houses full of vintage items that all belonged to one person or household. I have dreams about this too, sometimes I'll even discover entire empty towns of homes that are filled with cool old things, but often I will wake up before I get a chance to really explore.
anja modeling some of her recent stock