i have another super busy day ahead of me but i wanted to pop in and share one of my recent style inspirations with you. her name is marissa and she and i have been internet friends for a quite few years now. marissa hails from pennsylvania and now lives in virginia with her husband and two lovely children, annabel, 2, and leo, 5 months. i have enjoyed getting to know her, even just virtually, and being privy to her wonderful creativity and sense of style.
back when i "met" her, she was busy running a cookie club. her own invention, the cookie club entailed marissa baking a batch of cookies and sending them out to the first few email requesters. in return, the recipients would take a picture of themselves enjoying their cookies which she then posted on her blog (now defunct). it was a while ago so i can't recall just how far the cookie club reached but i do believe it went international.
her life as a wife and mother is keeping her busier than ever with no time for cookie clubs and the like but it hasn't stopped her from experimenting with style. lately i spied her boldly mixing prints & patterns, as seen here with her striped sock / leopard print flat combo...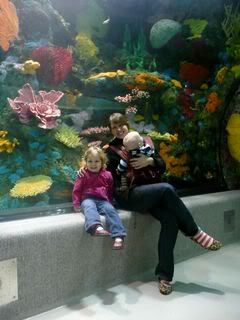 i love it! marissa has also recently been sketching her daily outfits, as seen here...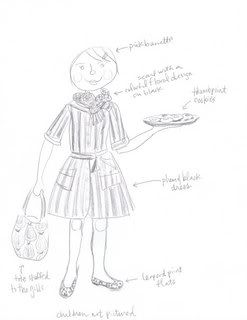 again, she's mixing color, print & pattern in ways that would never occur to me (stripes, florals, leopard print, etc. in plums, blacks, pinks, etc) but i never the less find completely amazing. to me, it shows a real sense of humor and whimsy in her willingness to experiment and make seemingly incompatible things work together so well.
it's my opinion that marissa is an inspiration to moms everywhere- especially those who insist they can't dress well as they're too busy being moms. so while dealing with two small children (who were recently very sick!) as well as an upcoming move all while her husband was out of town, marissa is living proof that there is always time for style and self-expression. kudos marissa!