a few weeks ago i sat down and wrote out a huge, long draft for a post about combatting a lack of inspiration in one's life. i wrote it because i had been dealing with it myself these past five months.
as a creative individual, it's pretty lame and tiring to feel uninspired by anything because the norm, for me at least, is to find awesome inspiration most everywhere, most of the time. sure, you can't be surrounded by fantastically wonderful things 24/7, but to go through a months long slump is something i think most of us have endured and can agree really sucks.
i've decided to forgo my lengthy draft for this truncated version because for me it all boiled down to making time for things. yes, i blame a lot of my issue on how busy i've been lately with obligations i couldn't eschew. the problem is that i spent so much of my scant free time "recuperating" that i was missing out on prime inspiration!
as someone who viscously guards their free time, i instantly regretted signing up to volunteer a few hours at a local craft show recently, but i went and met some really cool people and had a really great time and reconnected with the craft community. it was just the shot in the arm i needed. now i want to volunteer ALL my free time! ok, ha ha, maybe not ALL of it, but i was really inspired by taking a peek at what i've been missing out on by staying home each spare moment i had.
so now that i'm all inspired again and working out new jewelry designs in my head, here are a few things i'm really into now-
i started biting my nails, i don't even remember when! my mom started taking me for manicures around age six to inspire me to stop and take care of my nails but it didn't work. i was in my early twenties when i finally realized, i hate having long nails! and to me, "long" means they're approaching your finger tips. ew! it just feels wrong to me and i start gnawing on them like a wolf gnawing his leg out of a trap. terrible metaphor aside, once i started filing my nails regularly i realized, i didn't want to gnaw on them until my poor fingers were raw and practically bleeding anymore!
now i keep a file on hand and go to town once the urge to bite hits. a few years into having unbitten nails i found that they're actually a bit weak. so i started using sally hanson's hard as nails polish, which works like a charm. it occurred to me late last year however that if i'm going to make the effort to paint them with clear varnish, i might as well have fun with color! i am now OBSESSED with nail varnish. throw in this cute ladybug ring i received for my birthday and the HAND FASHION monster was born!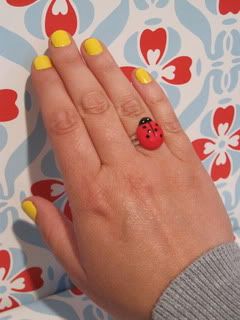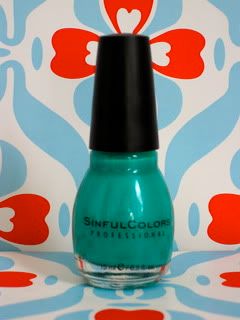 this is the next color i'm trying out
oh did i mention my recent birthday?? it was monday. anyhoozle, my husband's cousin gave me a fantastic gift as seen in the pages of instyle magazine- a sonia kashuk for target cosmetic brush set and- get this!- clutch purse made of CORK! how awesome & unique is that?? i love them!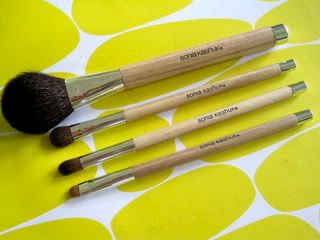 not all brushes pictured, because i've used a few already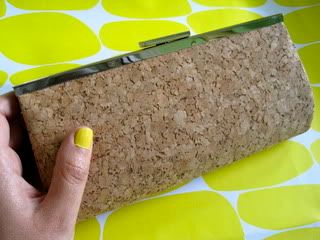 i mean seriously, a CORK clutch!
one of the coolest perks of my recent volunteering stint was getting a goodie bag thank you at the end. one of the items inside was this cool badge set from bossa nova baby. as a vintage lover and cell phone hater, these badges just scream me.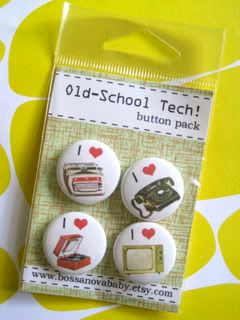 so there you go. get out of the house and find ways to volunteer in fields you find interesting and the rest will just fall into place.